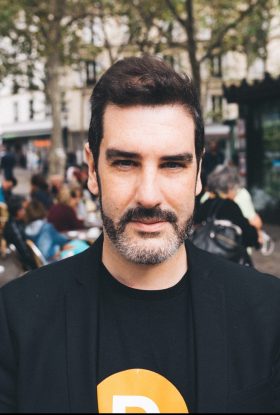 Wednesday
11h20 - 12h00
Salle Maxi
Wednesday
10h30 - 11h20
Salle Maxi
Damien DOUANI
Co-founder @FaDa / WeScope
Pionnier du numérique et des nouveaux médias, Damien Douani sillonne depuis vingt ans le monde de la création audiovisuelle, du digital et de l'innovation: ancien responsable innovation et prospective d'Orange, c'est un fin connaisseur des usages numériques émergents et de leurs impacts sociétaux.
C'est également un passionné de l'industrie du divertissement : en 2005, il crée son blog au croisement du numérique et l'entertainment, et devient Youtubeur avant l'heure. Il a été l'un des premiers en France à proposer des opérations créatives en #SocialTV, et utilise Periscope depuis le jour 1. Il est cofondateur de FaDa social agency, de WeScope TV, la 1ère chaîne de live talents francophones, et de WeScope Prod société de production d'Expériences 100% Live.
A l'origine d'une dizaine de blogs, il chronique et anime régulièrement émissions et conférences qui traitent des apports du digital aux (r) évolutions humaines. Et il adore monter occasionnellement sur les planches. 🙂
A pioneer in digital and new media, Damien Douani has roamed the worlds of audiovisual, digital and innovative creation for 20 years. Formerly head of innovation and potential at Orange, he is a connoisseur of emerging digital uses and their societal impacts.
He's also passionate about the entertainment industry: in 2005, he created a blog about the intersection of digital technology and entertainment, and became an early YouTuber. He was one of the first in France to propose creative operations with #SocialTV, and has been using Periscope since day 1. He is a co-founder of the FaDa social agency, WeScope TV, the first French-language channel for live talent, and WeScope Prod company, which produces 100% live experiences.
With a dozen blogs, he regularly chronicles and organises programmes and conferences dealing with digital contributions to human (r)evolution. And he loves appearing on stage occasionally himself. 🙂