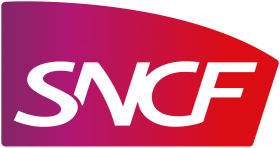 SNCF
SNCF, the French railway system, is one of the world's largest transportation groups, handling both passengers and goods, and was founded by statute on 4 August 2014.
Split into three EPICS, or Public Industrial and Commercial Establishments, SNCF has five key business areas:
SNCF Voyageurs provides regional and inter-regional public transport, mass transit, and medium and long-distance transport, both nationally and internationally, as well as managing and developing France's railway stations.
Keolis provides mass transit and public transport in Europe and worldwide.
SNCF Logistics provides logistics and goods transportation solutions.
SNCF Réseau manages and operates the French network of railway tracks.
SNCF Immobilier manages and creates value from the group's property and investment assets.
The SNCF Group employs 8,500 people in the Loire region alone, who support 550 train services each day, transporting 80,000 travellers daily. It also operates the tram and bus networks in Angers, Laval, and Le Mans.
In order to become THE ultimate mobility service provider of tomorrow, we are building a new SNCF for the future: deploying a door-to-door strategy, implementing mobile stations, and experimenting with the humanoid robot, Pepper, in our stations.