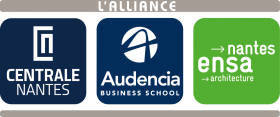 ALLIANCE CENTRALE – AUDENCIA – ENSA NANTES
Since 2013, the Ecole Centrale de Nantes, Audencia Business School and ENSA Nantes, the National Architecture School, have formed a strategic alliance that builds on their complementary approaches.
This strategic alliance combines engineering, management, architecture and design in order to enrich teaching, research, relations with the business community and the international reach of the three universities. The resulting cross-pollination of skills creates value and serves as fertile ground for the innovation process.
In total, these universities amount to almost 7,000 students and over 700 researchers, research academics and research staff as well as over 450 international academic partners.