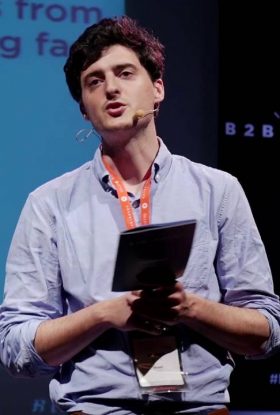 Damien BON
CEO @Stuart
Diplômé de Telecom ParisTech (MSc en Ingénierie), de Columbia University (MSc en Finance) et titulaire d'un MBA de l'INSEAD, Damien débute sa carrière en Merger & Acquisitions chez Lehman Brothers et à Nomura à Londres. Il rallie ensuite le prestigieux Boston Consulting Group (BCG) à Paris, où il officie sur des missions de conseil en management. Il rejoint l'aventure Stuart en tant que Directeur Exécutif en charge des Opérations (COO) et devient Directeur Exécutif de Stuart (CEO), suite à l'acquisition de la start-up par GeoPost. Damien est aujourd'hui âgé de 32 ans.
Graduated from Telecom ParisTech (in engineering), from Columbia University (in finance) and holder of a MBA from INSEAD, Damien started his career at Lehman Brothers and Nomura in London where he did some Merger & Acquisitions.
Then he had been to the prestigious Boston Consulting Group (BCG) in Paris where he did consulting missions on management. After Stuart's acquisition by Geopost, he has become its COO and CEO. Damien is currently 32years old.