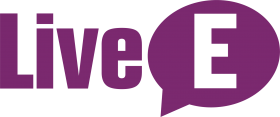 LiveE
LiveE offers live and interactive digital solutions for events, marketing and communication. The LiveE platform allows:
– Interaction with the audience in the room in real time (live-tweet, questions and vote by SMS, applause metre, networking…).
– Engagement with your audience online (webinar, live webcast, multiplex, web TV broadcast).
– Bringing together of your audience on site and simultaneously with 2 combined solutions.
– Connecting with colleagues through live broadcast solutions dedicated to business networks.