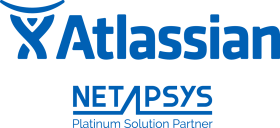 Atlassian / Netapsys
About Atlassian
Atlassian unleashes the potential in every team. Our collaboration software helps teams organize, discuss and complete shared work. Teams at more than 65,000 large and small organizations – including Citigroup, eBay, Coca-Cola, VISA, BMW and NASA – use Atlassian's project tracking, content creation and sharing, real-time communication and service management products to work better together and deliver quality results on time.
Learn about products including JIRA Software, Confluence, HipChat, Bitbucket and JIRA Service Desk at https://atlassian.com.
About Trello
Trusted by millions, Trello is an online tool that offers a visual, flexible, and collaborative way to manage projects and get organized. Trello provides perspective and structure to users' lives by giving them a broad overview and understanding of how and what needs to be done.
Launched in 2011, Trello has over 19 million users and raised $10.3 million in 2014, led by Index Ventures and Spark Capital. To learn more about Trello, visit www.trello.com and @trello.
About Netapsys
Since 2009, Netapsys Sodifrance Group is a fullStack partner of Atlassian solutions. Pure player of agile and technologically innovative projects, Netapsys integrates, personalizes and trains Atlassian solutions to enable its clients, from the startup to the multinational to adopt DevOps best practices. Our technical and functional experts are at the heart of your projects and help you unleash the full potential of your teams.