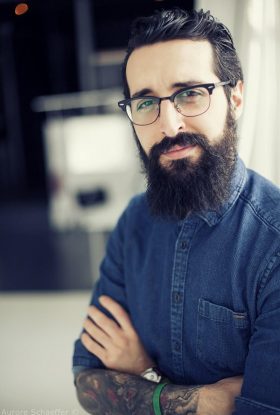 Mercredi
10h30 - 11h15
Salle Maxi
Mercredi
11h15 - 12h00
Salle Maxi
Sami GUILLERMET
Executive Creative Director @Vr Connection
Sami Guillermet, Directeur Créatif.
Issu d'une formation artistique académique (Beaux Arts) et d'une formation technique et créative en autodidacte, Sami possède 12 ans d'expérience dans la publicité, la communication et la fiction. En passant par des agences (Mazarine Digital, Darewin, Digitas LBI, etc…), ou encore des PME, il a pu développer une riche expertise dans le graphisme, le motion design et la direction artistique.
Graphiste, Directeur artistique, Lead Motion Designer, Réalisateur : la variété des postes qu'il a occupé l'ont amené à développer un sens créatif aiguë, de fortes compétences managériales et une versatilité à toute épreuve. Il a rejoint la VR-Connection afin de gérer, de suivre et de guider l'ensemble des aspects créatifs du GIE afin d'apporter à l'ensemble du groupe une plus-value qualitative et créative.
Sami Guillermet, Creative Director

With an academic background in the arts (as a graduate of the École des Beaux Arts), Sami has twelve years' experience in advertising, marketing and communications, and fictional writing. Working for a variety of agencies (Mazarine Digital, Darewin, Digitas LBI, etc.) and even some SMEs, he has successfully developed a wealth of expertise in graphic design, motion design, and art direction.

As a graphic designer, art director, lead motion designer and creative director, the variety of roles that he has filled has led him to develop an acute sense of creativity, strong managerial skills, and a clearly demonstrated versatility. He joined VR-Connection to manage, track and guide all creative aspects of the group and to add qualitative and creative value across the board.